Name:Nero
World:Human Realm
Age:19
Gender:Male
Appearance: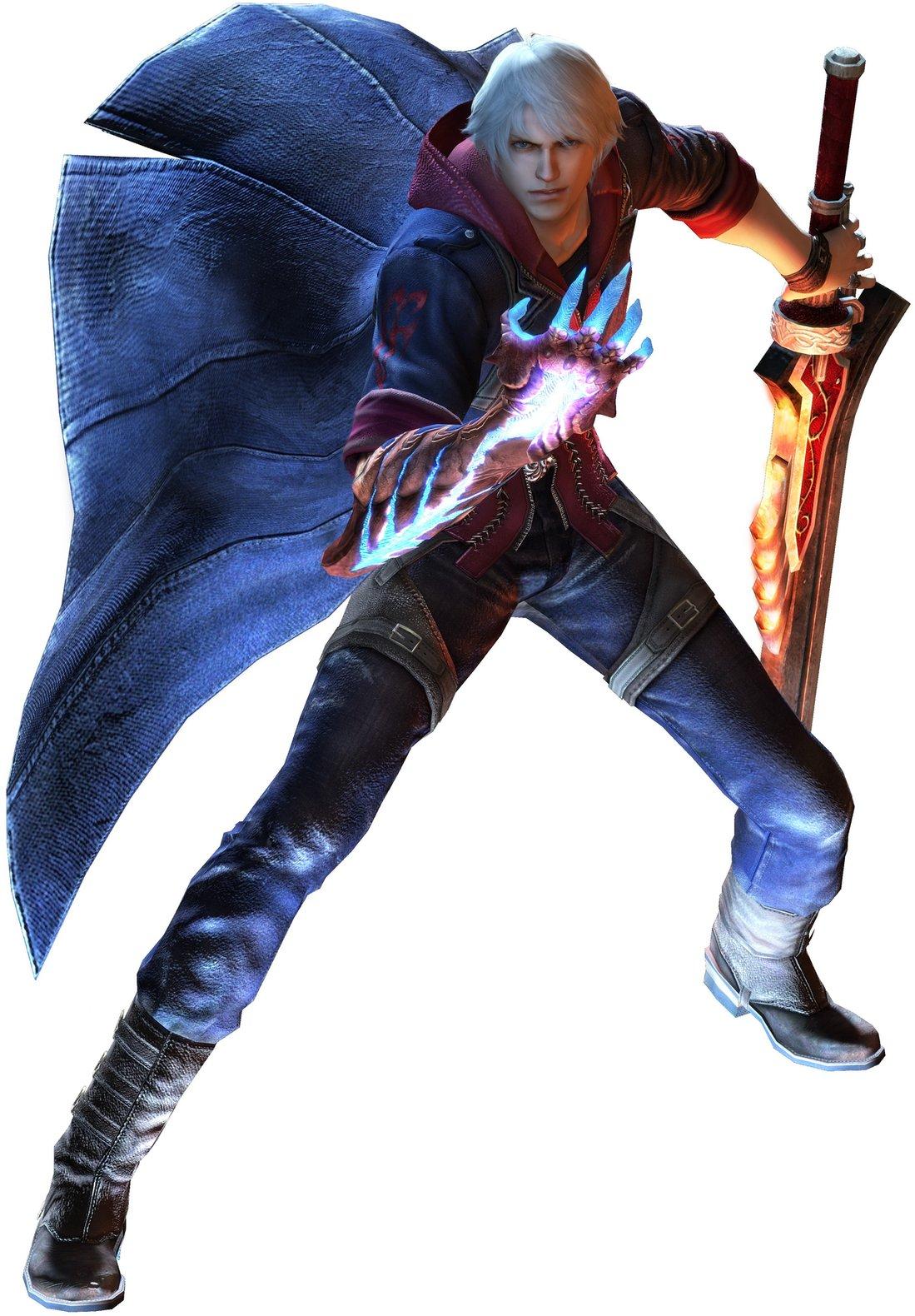 Weapon of Choice:Gun, sword, Devil Bringer
Character History:
At the game's beginning, Nero manages to barely make it to one of Kyrie's performances in time after dealing with a group of demons. He leaves her a gift and then prepares to leave, having grown tired of listening to Sanctus's preaching. Just before he can though, a
mysterious man in red
bursts in through the glass ceiling during a prayer and slays
Sanctus
, the leader of the Order.
Before the assassin (who is later revealed to be
Dante
) can confirm the kill,
Credo
along with a battalion of knights confront him, but are completely outmatched. Kyrie, seeing as Dante is going to kill her brother, finally escapes Nero's hold on her and runs to them, but is knocked down in the process. Nero, worrying about her, decides to step in the fight, sporting his iconic two-legged kick into Dante's face. The two fight, and Nero is able to beat him and impale him with
his own sword
on
his father's statue
. But Dante, being not just a mere mortal, frees himself and jumps down. Nero states that Dante isn't human. He pulls Rebellion out and comments that they're the same, and points out the knights Dante had slain. They turned up to be in fact demons. Confused, Nero watches as Dante flees the scene.
Shortly after Dante flees, Nero is given his sword (
Red Queen
) by Kyrie on Credo's request. Credo gives an order to him - to pursue mysterious man. Credo also says that witnesses saw him heading to
Fortuna Castle
. Suddenly, all three feel a stroke and leave the ruined building, only to discover the city's citizens being attacked by demons. While Kyrie and Credo lead the survivors back to headquarters, Nero fights off the remaining demons. When he starts pursuing Dante, but firstly he needs to go through the
Fortuna
. While going through the city, he sees that demons have totally overrun it and on the outskirts of the city he finds the reason. In small village in the basement of Lamina Peak (where Fortuna Castle is) Nero finds the first
Hell Gate
and fights its guardian, Berial, The Conquerer of the Fire Hell. After that, Nero heads to Fortuna Castle.
After defeating Berial, Nero makes his way to Fortuna Castle where he meets
Gloria
, a new member of the Order. While in Fortuna Castle he finds second Hell Gate and fights
Bael
, a large toad-like demon whose specialty is ice. Nero also stumbles upon secret underground laboratory of the Order, where he meets
Agnus
, the Order's Chief Alchemist. Agnus reveals that he created the Hell Gates and uses them to summon demons. Demons are needed for their demonic essences, which alchemist uses in his experiments. Agnus also reveals that using this power Sanctus wants to rule the world. Agnus has Nero nearly killed by his Angelos, during which Nero dramatically unleashes his Devil Trigger, gaining a phantom-like appearance. Under this form, Nero managed to resurrect Yamato, the sword of Dante's brother,
Vergil
.
Nero heads towards
The Order's headquarters
, believing Credo must know more of what is going on. He crosses the bridge which heads into a cave concealed by the waterfall and finds himself in a forest. He runs into Dante, but the encounter is very brief. Nero fights countless demons within the forest and eventually banishes Echidna, a dragon-like demon who treats the forest as her children (the demons are, at least). After that Nero reaches the Headquarters without other surprises. However, at the entrance he meets Credo. Nero asks who is Dante but Credo shouts that he demands no answers from him. Then he transforms into Angelo and declares that Nero is under arrest from now on. A fight begins. Nero is victorious but Kyrie sees Nero and his demonic arm and is scared, thinking that he was trying to kill Credo (reverted to his human appearance). In all this confusion, Agnus captures Kyrie, revealing Sanctus's desire to use her to get to Nero. Credo is furious but Agnus flies away with Kyrie. Credo puts aside his fight with Nero, for the time being.
While in the Headquarters Nero finds and fights Agnus, but fails to kill him and rescue Kyrie. He continues to pursue him, however, and runs into Dante again, who wants to take Yamato back. Nero refuses and they begin to fight. Despite Nero wielding the Yamato, Dante is able to beat him, though he refuses to kill him. Although Dante wants his brother's sword back, he allows Nero to keep it for now, seeing how he needs it. Nero reveals his name to Dante and leaves.
Nero later finds Sanctus next to a giant statue resembling Sparda, which is called
The Savior
. Sanctus asks Nero if he wish to surrender himself and form the Savior's core, together with Kyrie. Nero refuses and attempts to rescue his love. He fails and falls into Sanctus's trap, who willingly uses Kyrie for this. Sanctus takes the Yamato from Nero. Suddenly Credo appears, who is enraged because Sanctus used Kyrie. He attacks his ex-boss to help Nero to escape, but is stabbed by Yamato. He falls down but is caught by Dante. He together with Trish witness as Nero is absorbed into the heart of the Savior. The great demon awakens and flies to Fortuna. Credo asks Dante one last request, to save Kyrie and Nero.
Much later Dante, who retrieved Yamato and destroyed all Hell Gates, faces off against the Savior and thrusts Yamato into the core of the statue, awakening Nero and allowing him to escape the heart he was imprisoned in. After completing a number of trials within the Savior, Nero finally finds Sanctus. He asks why Nero betrayed the Order. Nero answers, that Sanctus have done enough of foul deeds to hate him. In this epic confrontation Nero finally defeats Sanctus, but he in his last struggle asks Sparda for power, but is unanswered. He rages and yells why Sparda is refusing to give him the power to kill Nero. Nero explains to Sanctus that although
Sparda
was a demon he did have a heart, one that could love another person. That is the thing that Sanctus lacks, whose only desire is power. Nero saves Kyrie and kills Sanctus, and they together escape the Savior.
Although it seems the end has come, the Savior transforms into the form of the False Savior, taking on Sanctus's appearance. Nero agrees to fight in Dante's stead. At this moment, Nero seems to apologize to God for despising him for cursing Nero to his fate as a half-demon. Nero destroys the False Savior and accepts who he is as a demon, deciding that although he is a demon, he is not evil. He meets up with Dante who exchange thanks and friendship. Nero tries to return Yamato back to Dante, but he refuses giving it back to Nero. Nero asks Dante if they'll meet again but he just vaguely waves in answer. Kyrie joins Nero and tells that she is happy that the end has come. Nero returns his necklace to her and they nearly kiss, but are interuppted by demons. Nero fights them off while Kyrie waits, agreeing to kiss him later....
Allignment:good
Rank:private
Class:Dark Knight