Name(Whats Your Characters Full Name) Isis Yummei Kodor
World(What World is Your Character at Right now) Twilight Town?
Age(How old Is Your Character) 14
Gender(Male or Female) Female
Appearance(Descrption of looks if no Picture)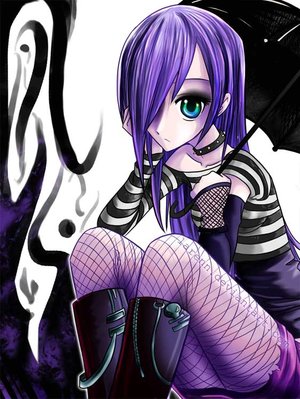 She has black snake bite lip rings and and eye brow ring
Weapon of Choice(What Type Of Weapon does Your Character use) Scythe
Character History:(From Your Character's Birth to the Present)
Her father died when she was 6 and so she was raised by her mother, who had trained her until she was 10, when her mother was murdered. When she was 13, she moved from the house and wondered around, untill she finnally approached Twilight town. She decided to live there, so with the money her mother had left her, she bought a place to live and lived her life. She made a few friends and when she turned 14, she figured out her mother wasn't actually murdered, that she was still out there, though didn't know where. She tried to Find her mother, but no matter what she never could, she gave up and just continued her life.
Allignment:(Evil,Netural, Or Good) Evil
Rank:(New Users start at Private) Private
Class:(Check The Rules) Ninja